Sitesell's Site Build It (SBI) is becoming more popular by the day! I use it, and I like it a lot. The power of what it offers far outweighs its minor drawbacks. Find out if Site Build It is the right tool for your website…
To me, Site Build It is much more than just a tool to build a website. SBI is a suite of tools that all work together to help you create a website that will have plenty of traffic. So Site Build It is more like a website building system.
The starting point for SBI is its Action Guide, which is a comprehensive guide that takes you through the entire process from beginning to end. With this in hand, even somebody who has never built a website before, will learn the right process to follow from day 1.
Site Build It – Tools
A review of the major tools used in Site Build It will give you an idea of its power…
Keyword Tool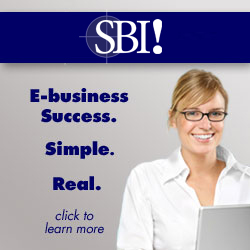 The first Site Build It tool is the keyword tool. It helps you build a comprehensive list of keywords, related to your website topic, that people have performed searches for at search engines. The keyword list includes demand and supply data that allows you to judge which keywords are the best to use on your website.
You can export the keywords. This allows you to combine SBI's keyword data with any other data that you might want to use to evaluate keywords.
I really like SBI's keyword tool. It is easy to use and it helps you find keywords that can result in a lot of traffic to your website. Comparing it to other keyword tools out there, SBI's keyword tool alone is worth the price you pay for the whole package!
Researching Tool
SBI provides a fantastic research tool called Search It! It helps you research just about anything that you can think of that might be related to building your website.
There is a public version of Search It available for free. Even if you decide not to use Site Build It, I highly recommend that you check out Search It. It is very useful indeed!
Site Builder Tool
Site Build It provides a flexible Site Builder tool for creating web pages. While you are free to do your own "look & feel" design, SBI provides a whole range of customizable web templates to choose from. You can have a decent-looking web page design in a few minutes!
Once you have your website's look & feel done, you can use the Site Builder's easy-to-use, block-by-block web page builder to create your web pages. If you have HTML experience, you can also download a copy of your template to create your own web pages in your favorite HTML editor.
The Site Builder automatically builds a search engine-friendly navigation system for your web pages. Navigation is a very important part of any website and this tool makes it a snap! You are of course not forced into using the automatic navigation system. You can omit it and use your own if you prefer.
Form Creation Tool
Forms on web pages, like a contact form, can be quite intimidating to get working correctly if you don't have much web experience. The SiteBuildIt form creation tool makes it easy to have a variety of different forms on your website.
I'm not talking about merely selecting from a simple set of rigid, preconfigured forms though. I'm talking about having the ability to create the form exactly like you need it. The forms can also include a "captcha" feature that stops spam bots from submitting junk.
The information that visitors enter into the form is stored in a data file that you can download. You can also configure your form to email the information to an email address you specify.
Search Engine Optimization Tool
Site Build It offers a very good search engine optimization tool that you use after creating each web page, and before adding it to your website.
This tool checks how well the new page utilizes the keyword that you used as the topic of the page. The tool analyzes several criteria and provides a complete report telling you exactly what to change to improve the page's search engine optimization for the keyword.
The SEO process is very important because it helps the search engines determine what the topic of your page is. This allows your web page to show up in search engine results for searches for your keyword.
Search Engine Submission Tool
After your new web page has been added to your website, the search engines need to know about it. Site Build It provides the tool for this as well.
When you add your home page (index page) to your website the first time, SBI's submission tool submits your page to the most important search engines automatically. These search engines account for the vast majority of searches on the internet.
Then SBI automatically creates a specially-formatted site map file that contains information on all your web pages. The search engines read your site map file to get information on all other pages on your website. All of this happens automatically!
Newsletter Tool
Many website owners publish a newsletter as a supplement to the website. It is a special communications tool that helps you build a special relationship with your visitors. Yes, you guessed it, SBI provides a newsletter tool as well!
The tool helps you add the newsletter signup boxes onto your web pages. It collects all your signup email addresses in a database. It provides you with a tool for creating your newsletter, and finally, it provides you with statistics about your signups, mailings, and how many subscribers read your newsletter.
Linking Tool
Obtaining links to your website from other websites is very important. It brings visitors to your website and it also raises your website's importance in the eyes of search engines. This leads to higher placement on search engine results pages.
Site Build It provides a tool called Value Exchange for building link exchanges with other websites. Value Exchange matches up website owners who might benefit from exchanging links. The key objective of the program is to provide added value to the visitors of both websites.
Value Exchange also keeps an eye on the links coming in to your website to make sure that webmasters don't take down the link to your website after ensuring that you have a link to their website.
RSS Tool
SBI can provide an automatic RSS feed for your website.
You get to control the news items that appear on your RSS feed. Whenever you add a new web page or upload changes to an existing page, you can check a box that automatically adds the page's title and description to the feed as a news item. You can also add custom news items if you wish.
The RSS tool eliminates the need to know anything about the RSS specification. It handles it all for you. All you do is check a box, or if you want to add a custom item, fill out a few text boxes.
SBI Drawbacks?
An honest look at SBI also has to include the drawbacks, if any. While Site Build It has some drawbacks, they aren't many, and they aren't major, but you have to know about them before considering using SBI.
Site Build It allows static HTML pages only. One reason for this is that search engines are much better able to index static html pages. If you absolutely need a dynamically-generated website, you need to consider another solution.
You can't use regular FTP programs to upload web pages, but rather have to use SBI's online upload utility. This is merely because of the way that SBI handles web pages. The only real problem here is that it takes a little longer to upload pages. In my experience, it isn't a major problem.
Why Choose SBI?
Site Build It not only provides a huge amount of easy-to-use tools for building a successful website, but they also provide a whole bunch of free downloadable e-books and guides to give you a ton of knowledge to get the job done like an expert.
If you still have questions about building your website, you have access to SBI's very active discussion forums. Many knowledgeable people hang out there and they like to help others succeed.
Site Build It costs $299 per year. This price inlcudes all the tools I described above, all the ebooks and guides, access to the forums, domain name registration, and one year's website hosting. That is an incredible deal!
If you need a website and will be relying on traffic from search engines for the success of the website, Site Built It is a great choice that I highly recommend.